MQM Press Releases
Montreal extreme metallers
CRYPTOPSY
have been nominated for Favorite Independent Canadian Metal Artist as part of Canadian Music Week. Make your METAL voice heard, and cast your vote here
HERE
by Feb.12. One vote per email address.
The 6th Annual Independent Music Awards, will be hosted by the
Trailer Park Boys
, and the awards will be presented at Toronto's The Docks on March 1st at 7:00 PM. Tickets are available at
Ticketmaster
or
CMW.net
MQM has coordinated 4 brilliant bands of artists under its management in one showcase for Canadian Music Week's Festival. The evening also features MC Dave Blezard from Z103.5 and DJ Miss Barbra Fisch from "Satan Takes A Holiday" CKLN 88.1 FM.
Metal Queen Management - Canadian Music Week Festival (CMW) Showcase
Saturday March 4, 2006 @ The Vatikan, 1032 Queen Street West, Toronto
12:00 pm
CRYPTOPSY
(Century Media) Montreal, Quebec
11:00 pm
PENETRATOR
(Sonic Age Records) Toronto, Ontario
10:00 pm
SHATTERPOINT
(Power Play Records) Brampton, Ontario
9:00 pm
WARMACHINE
(Nightmare Records) Toronto, Ontario
Tickets $15 available
here
(free shipping included) or at The Vatikan.
**************
SHATTERPOINT (Power Play Records)Power Play Records
announces the signing of Brampton, Ontario, Canada recording artist
SHATTERPOINT
.
New York independent metal record label, Power Play Records, is proud to announce the official signing of
SHATTERPOINT
to a recording deal.
SHATTERPOINT
is an aggressive four-piece heavy thrash metal act currently residing in the Toronto, Canada area. The band has established itself as a dominant force in the Toronto metal scene and has played with such heavy hitters as Amon Amarth and Behemoth.
SHATTERPOINT
consistently draw hordes of ravenous metal fans to their live shows, eager to hear the band's intense and bruising brand of high octane thrash metal.
Fans will be psyched to learn that
SHATTERPOINT
is putting the final touches on their forthcoming full length album, "Dead Precedence" with producer Greg Dawson, which is slated for worldwide release in early 2006.
The band features Shane Drake on lead vocals and rhythm guitars, Greg Wright on lead guitars, Chris Zeeman on bass, and Jeremy Baxter on drums.
SHATTERPOINT
will perform live at
METAL QUEEN MANAGEMENT'S CANADIAN MUSIC WEEK FESTIVAL SHOWCASE on Saturday, March 4, 2006
. Details to be posted in January at
CMW
website.
more news to be posted here – Shatterpoint, Power Play Records
********
Cryptopsy
European Tour Dates Announced, as follows:
31.01.06 Warsaw, POL @ Proxima
01.02.06 Berlin, GER @ K-17
02.02.06 Hannover, GER @ MusikZentrum
03.02.06 Grogingen, HOL @ Vera
04.02.06 Katwijk ann Zee, HOL @ Scum
06.02.06 Weert, HOL @ Bosuil
06.02.06 Tourcoing n/Lille, FR @ Le Grand Mix
07.02.06 Manchester, UK @ Jilly's Rockworld
08.02.06 Dublin, IRE @ Soundhaus
09.02.06 Glasgow, SCO @ Temple Music Bar
10.02.06 London, UK @ Camden Underworld
11.02.06 Antwerpen, BEL @ Hof Ter Lo
12.02.06 Paris, FR @ La Locomotive
13.02.06 Toulouse, FR @ Le Ramiere
14.02.06 Madrid, SP @ Sala Heineken Arena
15.02.06 Barcelona, SP @ Mephisto
16.02.06 Zurich, CH @ Abart Music
17.02.06 Essen, GER @ Turock
18.02.06 Elterein n/Aue, GER @ Hagalaz e.V.
19.02.06 Prague, CZ @ Abaton
20.02.06 Munich, GER @ Metropolis
21.02.06 Milano, ITA @ Transilvania Live
22.02.06 Rome, ITA @ Alpheus Club
23.02.06 Geneva, CH @ L'Usine
24.02.06 Trier, GER @ ExHaus
25.02.06 Osnabruck, GER @ Osnabruck
26.02.06 Hanau n/Frankfurt, GER @ Halle 2
27.02.06 Aarnhem, HOL @ Goudvishal
28.02.06 Rotterndam, HOL @ Baroeg
01.03.06 Hamburg, GER @ Markthalle
MQM NOTE TO PRESS
: To set up press for European shows, please contact: Gerrit.Mohr@CenturyMedia.de
Other upcoming dates:
Canadian Music Week (CMW) Festival, Saturday, March 4 @ The Vatikan, 1032 Queen Street West, Toronto
more info available at
CMW
website
USA Dates
CRYPTOPSY with guests
25.04.06 - Latham, NY @ Saratoga Winners
26.04.06 - Kingston, PA @ Backstage Enterprise
CRYPTOPSY with EXODUS and IMMOLATION
April 27, 2006 - West Springfield, VA @ Jaxx
April 28, 2006 - Poughkeepsie, NY @ The Chance
April 29, 2006 - Worcester, MA @ Palladium
April 30, 2006 - New York, NY @ B.B. King's
Australian Dates Announced:
04.05.06 The Gaelic Club, Sydney
05.05.06 Her Majesty's Bar, Brisbane
06.05.06 The Esplanade Hotel, Melbourne
07.05.06 The Tote, Melbourne
09.05.06 Black Betty's, Perth
11.05.06 Enigma Bar, Adelaide
Flo Mounier (Cryptopsy, drums)
Flo Mounier
performed at The NAMM Show Sunday, January 22, 2006 at 11:00 a.m. Pearl Drums Exhibit, Anaheim Convention Centre, Anaheim, CA.
Flo Mounier's Extreme Drumming 101 2 DVD Set Now Available
Flo Mounier
is known around the world for his incomparable way of playing extreme metal music. His drumming combines great chops with blistering speed and technical brutality. Drummer of the Canadian band CRYPTOPSY,
Flo's
style is an example to follow for the new generation of drummers who wish to find out more on what the discipline of extreme drumming is all about.
On disc 1,
Flo
discusses the basic elements fundamental in playing extreme metal as well as showing exercises, routines and tips facilitating speed, endurance and control. On disc 2, we see
Flo
in action performing some over the top solos and extreme songs.
Etreme Metal Drumming 101 Review:
Piercing Metal
Order Flo Mounier's Extreme Drumming 101 2 DVD Set
here
Additional band link:
CRYPTOPSY on My Space
****************
PENETRATOR'S
video for the
Adulteress
, featuring Phil Naro (Lee Aaron, Talas, Peter Criss), the lovely model/actress Sheri Klawitter, and various friends is now complete. There's a few special features being added to the DVD.
PENETRATOR
have started to record their follow up CD to
Penetrator
entitled
Voo Doom
. 14 new songs! Original drummer Simon Zanderzand is recording the drum tracks on the new CD at his studio, The Sound Lounge.
PENETRATOR
will perform at METAL QUEEN MANAGEMENT'S CANADIAN MUSIC WEEK (CMW) FESTIVAL SHOWCASE on March 4, 2006. Details posted at
CMW
website.
Additional band link:
PENETRATOR on My Space
****************
WARMACHINE (Nightmare Records)
True Metal from Canada!
In late 2003
WARMACHINE
entered the studio to record their debut album,
The Beginning Of The End
. Co-produced by Murray Daigle (Emerald Rain/Cauterize) and David Ellefson (Former MEGADETH Bassist) and several guest appearances including David Ellefson, Ralf Santolla (ICED EARTH), Harry Hess (HAREM SCAREM) and several other great artists.
The CD is now available through
Nightmare Records
Canadian release date is Friday, February 3, 2006 via Maple Music distribution
WARMACHINE CD Release Party
with guest Valkyrie's Cry
Friday, February 3, 2006
Bovine
542 Queen Street, Toronto
$5
WARMACHINE
will perform at METAL QUEEN MANAGEMENT'S CANADIAN MUSIC WEEK (CMW) FESTIVAL SHOWCASE on March 4, 2006. Details to be posted in January at
CMW
website.
*****************
IMAGIKA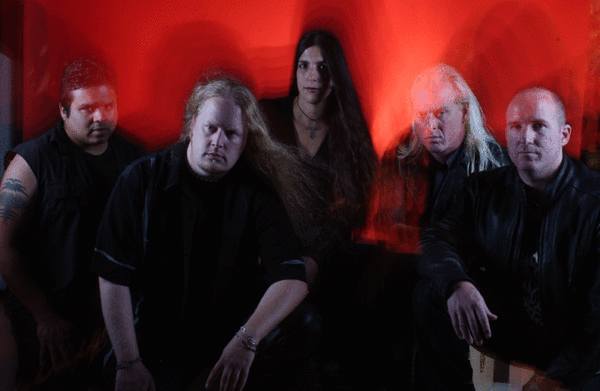 IMAGIKA
entered Trident Studios in December to begin recording their new CD
My Bloodied Wings
. On January 21, 2006, the band will head to Sweden's Los Angered Recording Studio to mix with
Andy La Rocque
. The CD is expected to be released in spring '06.
In other news IMAGIKA has signed on with
The Headbanging Agency
to handle European bookings.
Devil's On Both Sides
available at
The End Records
.
This CD made MQM's "top 10" list for 2005!
Additional band link:
IMAGIKA on My Space
******************
BURN TO BLACK
Inertia Entertainment
presents SODOM, FINNTROLL and
BURN TO BLACK
on Wednesday, January 11, 2006 at The Opera House. Sponsored by
Brave Words & Bloody Knuckles
Wednesday, January 11, 2006
The Opera House
735 Queen St. East, Toronto
Doors at 7:30.
Burn To Black
at 8 PM sharp
Tickets at
Ticketmaster
$25
Burn To Black
are in the studio for their yet "untitled" full-length CD, a follow up to a great EP!
Additional band link:
BURN TO BLACK on My Space
*********************
REHAB FOR QUITTERS
are revamping their website that will be launched in early January 2006.
News from Rehab For Quitters:
NEW MEMBER ANNOUNCEMENT
The fourth addition to
Rehab For Quitters
is guitarist Jamie Jones, formerly of King Minus and Merkury Burn. "It is a pleasure to have Jaime play a big part in this project. He's already brought so much to the table and we very much look forward to what the new year brings with this recent lineup addition."
WHEN THE WILL THE CD BE OUT?
"This is a question we've been pondering ourselves for quite sometime now. The EP will be mixed, mastered, pressed and ready for your jukebox early 2006."
Additional band link:
REHAB FOR QUITTERS on My Space
****************
7TH REIGN
Ex-EIDOLON
vocalist Brian Soulard and his new Power Metal Band
7TH REIGN
perform their debut gig at the Opera House on January 25th.
7TH REIGN
opens for the Finnish Power Metal band
SONATA ARCTICA
. Tickets are on sale now and can be bought through
Ticketmaster
. 7TH REIGN is currently writing and recording and have recently produced a three song EP.
Miscellaneous
Satan Takes A Holiday - DJ Ms. BarbraFisch
on CKLN 88.1 FM
Featured as a commentator on Canada's
MuchMoreMusic's show - EVOLUTION OF THE ROCKER CHICK
that debuted New Years Day
Events:THURSDAY, JANUARY 5, 2006 - Sweaty Betty's!!!
13 Ossington Avenue, Toronto (just N of Queen W)
Drop by for F.U.BAR..
."all trash all night.Slut metal and hair bands, reign supreme, with liberal doses of whitetrash drinkin classicks!Drink absinthe or shotgun 50s, just name your Poison!(ouch, sorry 'bout that, couldn't resist...)No cover, of course."
JANUARY 7, 2006 - A FISTFUL OF METAL
Moves to the legendary
Donny Blaise's
club RANCHO RELAXO (300 College St. just W of Spadina), previous owner of
Toronto's Legendary "Gas Works"
.
"Death metal, black metal, vintage metal, thrash, grind and whitetrash classicks will be the soundtrack to full-on drunken debauchery all night long! Prizes and giveaways all evening courtesy of the fine folks at Metal Blade, Roadrunner and Universal. No cover, doors at 10!"
Shout Out for a friend
Sick Puppy Beau Radio
Join MQM's News Group